Wednesday, April 27, 2011
PlusMood.com features Brandscapes on their website and publishes the whole interview between Felix Burrichter and Anna Klingmann that was held at the Storefront for Art & Architecture.
Thursday, March 24, 2011
Friday, February 25, 2011
Monday, February 7, 2011
Wednesday, January 26, 2011
Brandscapes in Paperback!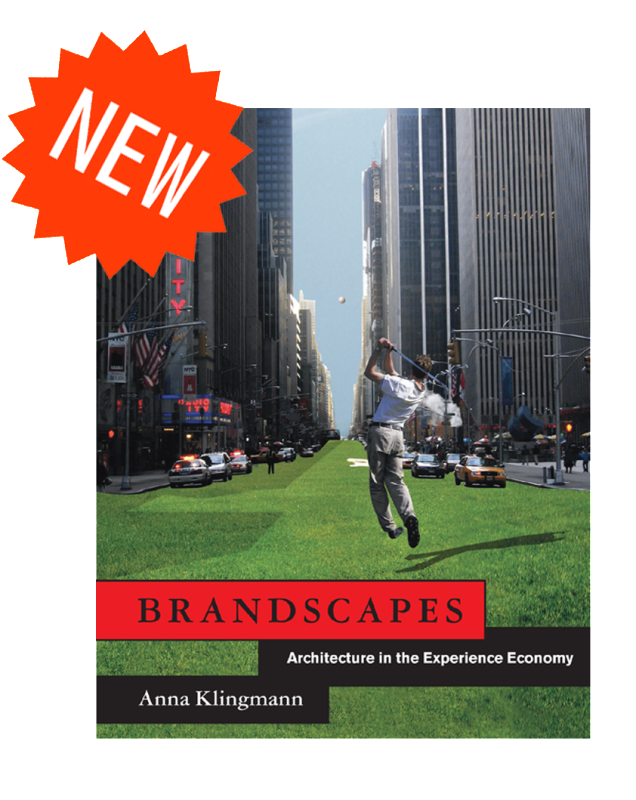 To celebrate the release of the second edition of Anna Klingmann's book Brandscapes: Architecture in the Experience Economy Anna is holding a launch party at the Storefront for Art and Architecture in New York. 
The party will start with a conversation between Anna and editor of PIN-UP Magazine Felix Burrichter. They will discuss the themes of Brandscapes and further the timeline of the book to include the impact of the recent economic crisis and other events. The conversation will be held in private, but projected into the Storefront Gallery to create an installation of ideas. Afterwards, Anna will hold a book signing. 
The event is presented by Architizer and held in conjunction with the Storefront for Art and Architecture and MIT Press.
WHAT: Second Edition of Brandscapes Book Launch
WHERE: The Storefront for Art and Architecture 
97 Kenmare St. New York, NY
WHEN: Friday, February 11, 2011 7-9pm
For more information visit MITPress.com, StoreFrontNews.org & Architizer.com
Wednesday, November 3, 2010
Tuesday, November 2, 2010
New Project: Damac Tower
We've been hard at work on a new concept design for Damac Tower, a new tower in Riyadh, Saudi Arabia. Damac Tower is located on a prime site right across from the iconic Kingdom Tower, which has become the symbol of contemporary Riyadh. Situated right in the center of famous King Fahad Road, lined with headquarters of major companies, dazzling shopping malls, and stunning skyscrapers - Damac Tower will be a further milestone in the future development of the boulevard.
Tuesday, October 19, 2010
Mixed-Use Community
Large scale community development demands a certain amount of total design control. A unified sense of community is achieved when all the design elements are cohesive, making even street signs an important way of reinforcing a sense of unity. But at what point does this amount of control become counterproductive? When does a community become a theme park?
Obsessive, uniform detailing can leave a community sapped of personality, a white washed imitation of a town that doesn't foster social interaction or community growth. However, without a certain amount of standardization, a community can become fragmented and see the same results. The key is to create a choreography of space, to differentiate neighborhoods while connecting them through programmed activities and community values. Instead of rigid regulation these activities and principles should be understood and implemented as catalysts for active community participation which evolve based on the changing needs of the residents and visitors.
Our Mixed-Use community planned for the Middle East establishes a community identity that is based on dynamic growth. Everything from the large scale to the most intimate scale, from the masterplan to the landscaping elements to the architecture to the street furniture is designed to foster interaction with the community. There are five distinct districts—the Exchange District, which is a business area, the Leisure District, which encompasses a central plaza and a retail area, and three residential districts that provide different living options, such as high rise tower apartments, lofts and townhouses, mixed with other public amenities, like gallery spaces, community squares, playgrounds and a community center. Each of these districts has a distinct personality and use program, but they are integrated, providing open access to every part of the community.
Together the different zones form a unified community, built with the same principles of environmental sustainability, social responsibility and diversity. Like much of the developing Middle East, this community is an international community, but it is able to provide a sense of belonging to ex-patriots and business people from all over the world, while still maintaining a sense of heritage with the location. Cutting edge technologies and modern amenities are paired with traditional Islamic design elements which recur throughout the development. Screens and water features (below in the Loft District, left, and Exchange District, right) are used to provide natural cooling, and the Esplanade landscape is based on calligraphy. These design elements unite the different districts without homogenizing them, since each district incorporates the same ideas in different ways.
We designed every aspect of the community, down to the street furniture and way finding program, which further reinforces the cohesive identity. Cohesive, however, does not mean static. The logo is a series of interlocking icons which can be changed depending on the area and use. Instead of strictly defining areas, the logo and signage is flexible, meant to reflect the actual use of space and the needs of residents.
The flexibility of the signs are an extension of the flexibility built into the community. A sense of seasonal change is captured through the landscape, which shifts from season to season based on the natural changes in plant life. Festivals and other events reflecting different cultures, such as cherry blossom festival in the spring and Christmas and Divali in winter are planned in a community calendar that draws repeat visitors and fosters a stronger relationship with the community. 
To masterplan a community without micromanaging is a delicate balancing act of programming without controlling; create spaces for community to develop naturally and provide for dynamic possibilities to grow. Unity does not mean homogeneity, and similar design elements should be incorporated across discipline and scale without being imitations of each other. The identity, while planned by the architect, should not be the architect's identity, but should be that of the residents. Design has to be specific enough to provide an identity and sense of belonging, open enough so that it encourages residents and employees to take ownership and allow the brand to evolve.
Wednesday, October 13, 2010
This is an article that discusses the impact of signature buildings and the potential of building one in Switzerland— an already tourist- and culture-rich country. They quote Anna on place branding and how Switzerland has an already successful place-brand, and how signature buildings might ruin that brand.